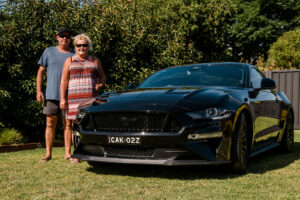 At Hume Bank we know life is a journey, and we're here for the big and small moments along the way.
Whether it's a new car or dipping your toes into the property market for the first time, we'll be there to make it a smooth process.
That's why customers like Debbie and Darryl keep turning to us for support at every stage of their financial journey.
After selling their home, building a new one and paying off a boat, Darryl and Debbie set their sights on their dream car. A black Ford Mustang. And to make it happen, like with every major financial decision they've made in the past, they contacted Hume Bank.
"I've always banked with Hume Bank, and I was just very impressed with Bec from the Corowa branch with the Mustang purchase," Darryl says.
"We were on the way to pick it up on a Friday and she made sure everything was going to go smoothly. I think if it had been another bank they could have just said 'call us back on Monday,' but she just made it happen. She's a 'rippa.'"
Our purpose is to always put customers first. And for Darryl and Debbie, they say that's why they'll always choose Hume Bank.
"I would never go anywhere else, the communication is always so great," Debbie said.
"I have dealt with a few different banks, but with Hume Bank it is always comfortable. The bank manager at the Corowa branch is very professional, but also laid back at the same time.
"She just makes you feel so comfortable asking those 'silly questions,' that you don't like to ask some people."
We understand how important face-to-face banking is for some customers, and we're part of the community. And for Darryl and Debbie, having access to a local branch makes their banking experience more personal.
"The manager at the Corowa branch knows exactly what we do, where we work, she just knows us as people," Debbie says.
"I could ring her right now and say 'alright Bec I want such and such,' and she would say 'leave it with me.'"
Darryl agrees that you're made to feel like more than just a number.
"We have a bit of a joke around, because that's just the kind of person she is, she makes you feel that you are important, and she goes out of her way to help you," he says.
And we'll always go the extra mile.
"When we put the car on the house loan, Bec happened to have a look at the rate we were paying, and she got us a lower interest rate, so the repayments dropped so much," Debbie says.
So, if you're considering taking the next leap in your financial journey, know that we're here to support you every step of the way.