Choose the account for you
We believe that managing your money should be simple, straightforward and (relatively) stress free. From transaction accounts to personal loans, our everyday banking solutions are designed to make banking less of a hassle.
Manage your money
We think banks should be more than a place to store your cash. Our tools and guides are practical and straightforward, helping you cut through the banking jargon to find the information you need.
Get the ball rolling
Being owned by you means meeting our customers wherever they're at. And that means having lots of ways for you to open an account with us – in person, or on the phone.
More branches
While other banks have closed their doors to regional communities, we have the largest network of branches in the area. In some areas, we're now the only bank in town!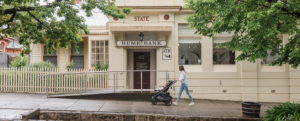 Protect what's important
Whether you've got a cute little hatchback, a beefed-up ute or a shiny new caravan, we've partnered with Allianz to offer a range of vehicle insurance options to keep you moving.
Frequently asked questions
Simple solutions for everyday banking
There's no getting around it – banking is part of life. But that doesn't mean it has to be hard! We've put together a collection of resources to help you make the most of your finances, no matter where you are in life.