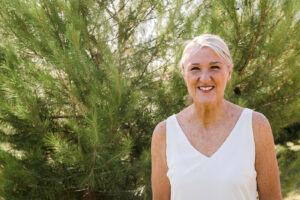 At Hume Bank, we know life can throw unexpected challenges your way – especially when it comes to finances. That's why we strive to be more than just a bank. We want to be a partner on your financial journey.
For many of our customers, this approach makes all the difference. And that was certainly the case for Rebecca Moore – both when she was first applying for her loan, and when she faced unexpected financial challenges a few years later.
"I was flying blind," Rebecca says of her first experience getting a home loan on her own. "But the lady I dealt with at the Lavington branch was very keen and understanding and was just there for me 100 per cent. I was always kept in the loop about what was going on, it was never difficult at all, everything was mapped out for me and explained to me."
When Rebecca found herself facing financial difficulties due to rising interest rates, she turned to Hume Bank for help. "I was recently divorced so I had never had a home loan on my own before. I wasn't aware of how interest rates worked and locking in a fixed rate or anything like that," she says. "I just didn't know."
With the support of our Corowa branch, Rebecca was able to lock in a fixed rate for 12 months, a move that she says has been life changing. "I cannot praise the staff, and particularly Bec, the manager at the Corowa branch, enough, it has just been amazing the help that I've been given, and I am so grateful for it," Rebecca says. "It was one of the best things I ever did."
But we know that helping our customers navigate financial challenges is about more than just providing the right products and services. It's about being there for them every step of the way. Providing friendly, down-to-earth support and guidance that helps them achieve their financial goals.
"I'm able to tackle it a bit more and I have more tools to try and deal with these sorts of situations and the Hume Bank has been instrumental in that," she says. "It's also been a good lesson, an opportunity for me to learn more about things that I didn't know, like fixed interest rates and being shown little things like how much I can save by putting extra money towards my home loan."
And for Rebecca, choosing Hume Bank has meant more than just getting her finances back on track. It has allowed her to enjoy life with her teenage sons again, doing little things that make a big difference. "We can go bowling and drive down to Wangaratta and have lunch there," she says. "It's little things like that, which to them and to me, are a big thing, which, prior to all this, the stress of the rising interest rates we couldn't do."
If you're considering a home loan with Hume Bank, we want you to know we're more than just a bank. We're your partner on your financial journey. And we're here to help you navigate whatever challenges come your way.