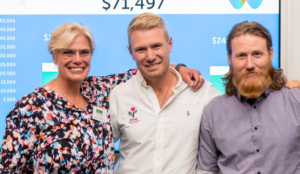 We know that together we can achieve more, and the first ever Pitch Up Wagga Wagga was evidence of just that.
In March 2023, more than $70,000 was raised during a live crowd-funding extravaganza.
It saw the power of community come together to keep three important grassroots organisations thriving.
On the night, three finalists, Bloss – Riverina Pregnancy & Baby Loss Support, Pro Patria and CarevanWagga Inc. shared their stories and future projects.
In return, the audience, made up of community-minded people and organisations, made their pledges via a live crowdfunding format.
The event was facilitated by The Funding Network (TFN). An organisation renowned for running these unique events across the country. It was the first time TFN had delivered one in regional New South Wales.
Hume Bank was proud to partner with TFN and Wagga Wagga-based businesses WDF Accounting + Advisory and Macarthur Real Estate Agency for the event.
It will now allow Bloss – Riverina Pregnancy & Baby Loss Support to build support packages for families who have lost a baby. Each package will include ten counselling sessions, with no out of pocket or gap fees. Plus a range of practical support.
Pro Patria will dedicate funds to renovating their kitchen to an industry standard. The upgrades will enable them to provide cooking classes for veterans. It's part of their mission to empower the veteran and first responder community with ongoing support, strategies and skills for life beyond service.
And CarevanWagga Inc. will continue to support families and individuals to have food on their tables – through cooked meals prepared by Carevan and groceries.