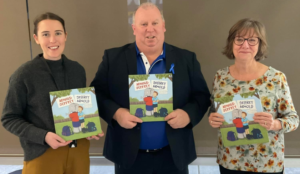 Last year, Hume Bank threw its support behind the Terry Floyd Foundation. An organisation dedicated to educating regional children about personal and cyber safety and supporting disadvantaged children.
The foundation was set up in memory of Terry Floyd, 12, who was abducted and murdered while waiting for a lift home from Avoca to Maryborough in Victoria on June 28, 1975. The foundation was established in 2019 by Daryl Floyd, Terry's younger brother.
As a customer owned bank, we're proud to support organisations that contribute to the development and wellbeing of residents and their communities.
Keeping children safe, both online and offline, and ensuring they all have brighter futures is something we're extremely passionate about.
"As soon as we met and explained what we do, the team at Hume Bank could not have been more supportive. We are lucky to have such a community minded bank based here locally," Mr Floyd said.
"Without supporters like them, there is only so much we can achieve with our volunteers.
Their support will allow us to support more schools and vulnerable children and help us to deliver upon and amplify our purpose."