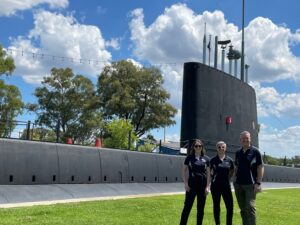 In a show of our ongoing commitment to our local communities, Hume Bank is excited to announce plans to open in Holbrook.
We understand the value of banking services to our customers, especially regionally.
Therefore, we are strengthening our commitment to our home market region, whilst other financial services continue to reduce theirs.
It's this vision that will see us look to offer our banking services in Holbrook for the first time- adding to the largest branch network in the region.
Hume Bank CEO Stephen Capello says this announcement is another display of the bank's strong commitment to giving customers the access they need.
"As a customer owned bank, we understand how vital face-to-face branch services are to some people," he says.
"We are committed to continuing to find sustainable ways to provide local branch banking to meet our customers' needs."
Once open, services at the Holbrook branch will continue to be reviewed over a six-month period based on community feedback.
Today's announcement comes as the only remaining bank in the town will close its doors on Thursday.
Teaming up with the Greater Hume Shire, the Hume Bank branch will sit within the council's Young Street office and is expected to be open next month.
Plans include access to all Hume Bank services and facilities, including a 24/7 Smart ATM, lending, and business banking.
Greater Hume Shire Mayor Tony Quinn says they hope the local community will show its support for the new branch.
"Greater Hume Shire is thrilled to be working with Hume Bank to ensure Holbrook and surrounding communities will still have access to face-to-face banking without having to leave the area," Cr Quinn.
"We hope residents will now show their support by utilising the services so it can remain viable."
Opportunities for community consultation will be available in the coming weeks.
Keep an eye out on the Holbrook and District Community Noticeboard Facebook page for details: www.facebook.com/groups/2044713025778674