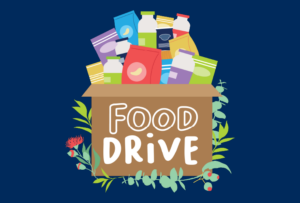 Our Festive Food Drive came to a close last week with customers and community donating one tonne of non-perishable food to Albury Wodonga Regional FoodShare (FoodShare).
The Festive Food Drive set out to collect half a tonne of food for FoodShare, excitingly, through the generosity of community members we have doubled that target! Donated food items will be used in FoodShare's Community Pantry and other programs that support just some of the 2,223 people requiring food assistance in our region each day.
FoodShare operates across the region from Corryong to Corowa and everywhere in between; supplying emergency food hampers and ongoing support to individuals. In 2021, they opened their Community Pantry in Wigg Street, Wodonga which saw a new type of food assistance become available to those in need through a dignified shopping experience in a micro version of a supermarket.
"Hume Bank and Border Trust have been long-time supporters of FoodShare. Through the development of the Festive Food Drive, not only have we received a significant contribution towards our food stocks, but we have also increased the awareness for our programs and what food insecurity means for people in our communities" said Sue Thornton, acting CEO FoodShare. "These donations will allow us to support many in our region to have food on their Christmas table."
Hume Bank branches acted as donation drop-off points since October, providing accessible locations for community involvement.
"Our customers and the wider community have really gotten behind the Festive Food Drive. Many customers would leave the branch and walk back in ten minutes later with a bag full of food from the supermarket next door," said Stephen Capello, CEO Hume Bank. "We used this opportunity to raise awareness of the great work FoodShare does across our branch network and beyond. Regional towns are increasingly learning about the significant role FoodShare plays in supporting their community."
For more information on Albury Wodonga Regional FoodShare visit foodshare.org.au