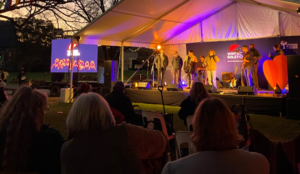 At Hume Bank, we're ever mindful that we're an organisation born of the community to serve the community. Just like our customers, we're locals who want the focus to stay on locals.
So naturally we were proud to once again support Winter Solstice on June 21, 2022.
Winter Solstice is a small community event that is having a big impact on mental health awareness and suicide prevention.
Held in Albury and streamed online, this free event was created by Survivors of Suicide & Friends – an organisation started by Stuart and Annette Baker following the loss of their daughter Mary to suicide.
"As the longest night of the year, Winter Solstice is incredibly symbolic, and the Albury Wodonga community has made the event its own. They want to have these discussions and we often hear that it makes people feel less alone," she said.
"It's very important for us to keep it a free event, which is only possible thanks to the support of community organisations like Hume Bank. They are truly a community bank."
Hume Bank has supported Winter Solstice since its inception. And in 2022 we were happy to fund the cost of a street banner promoting the event and purchase a table of 10 for the fifth Annual Mental Health Lunch, which raised more than $40,000 for Survivors of Suicide & Friends. We look forward to supporting Winter Solstice for years to come.